So what is the C9 diet? is it a diet? Is it a detox? is it a body cleanse?. Well, the C9 diet is all three really, but the best way to answer the question what is the C9 diet is to say that its a kick start to any weight loss programme, any goals, any diets that you are planning. It is also a great way to shed lose some weight and feel more energetic is you have an event or a holiday coming up.
There are so many diets out there it can become overwhelming and like most, you may find yourself starting and stopping and losing motivation. Sometimes we fall at the first hurdle because we don't see immediate results. With the C9 diet in 9 days, you will feel amazing, have more energy and motivation and have lost weight to get you started at the point you will continue.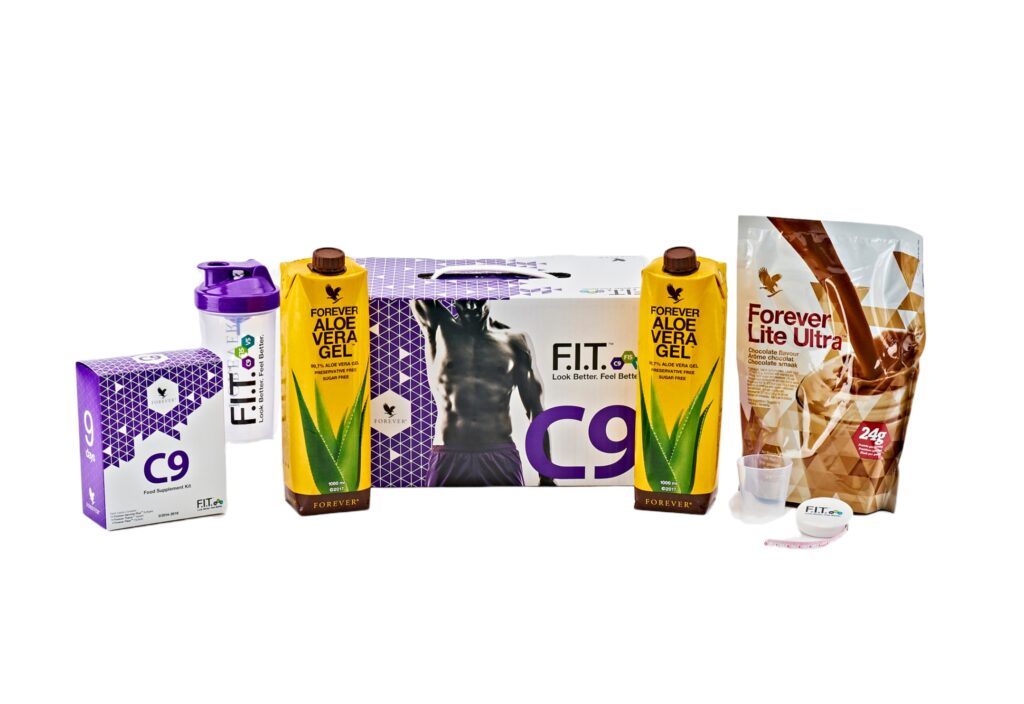 What's in the C9 diet pack?
You will get 2 x Forever Aloe Vera gel 1000ml in the flavours you choose.
For a meal replacement, you have the Forever Lite Ultra shake in Chocolate or Vanilla.
To help with energy there are the Forever Therm supplement tablets (18 tablets)
To aid your metabolism you have the Forever Garcinia Plus (54 softgels)
To keep you regular the Forever Fiber (9 packets)
A Tape Measure so you can monitor your progress
Information Booklet and diary to note results
A protein/smoothie shaker to mix your Lite Ultra shake
So what are you waiting for? Have we not answered the question of what is the C9 diet? Ok, let's give you some more information.
When should you do a C9 diet plan?
There is no time like the present, the C9 diet will give you the head start you need to get going with any diet plan and if you don't have one then with the Forever Living C9 and the 9-day diet you will have a better understanding of what to eat, when to eat it and will be in a routine to continue. There is even a follow on to the C9 diet call the FIT F15. With the support of Forever Living products, you can lose the weight you need.
If you have an event like a wedding, a party or a holiday coming up then the C9 diet is an ideal way to shed those extra pounds you have. You will also feel more energized and less bloated and tired so you will be ready to take on the world and feel super confident. Look and feel better.
We hope we have been able to answer the question of what is the C9 diet, if not you can always contact us and we can answer any questions for you. If you are ready to get started just order today and start your journey.
Review